Short-t erm Missions
---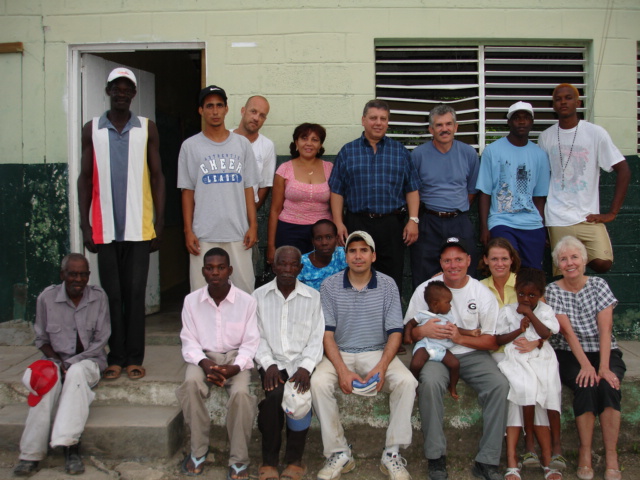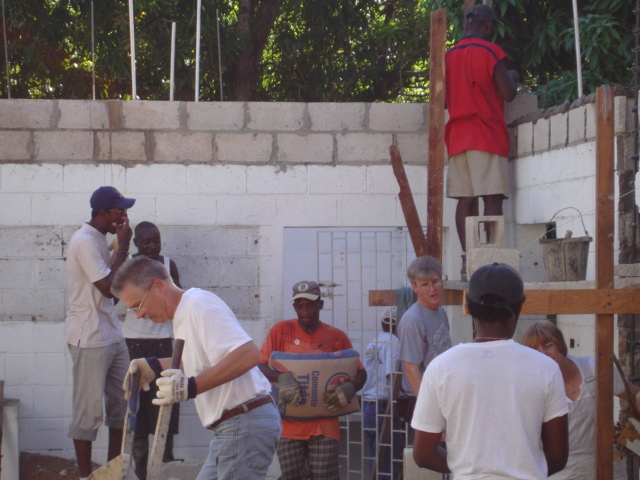 ...(Georgia team working long-term with Batey Mosquito)........(First-time team from Lisbon, ND remodeling the dining room)
Short-term missions work, whether for one week or one year, can be a life-changing experience. Many of our volunteers have stated that they will never be able to look at the world the same way after
working with us on the bateyes and in our hospital. Many times this is because they have come to a point in their lives where serving others is more important than serving themselves and for others it is a chance to meet new people and visit a different culture. Whatever the reason, missions work will alter who you are and possibly the direction of your life.
See current schedule of mission teams visiting La Romana.
As eluded to earlier, there are usually two types of volunteers that come to work with our mission. First, we have medical teams of 10-25 persons that work with us in medical clinics, both in barrios around La Romana and the bateyes with predominately Haitian sugarcane workers. The groups that come down bring their own medicines or purchase what they need here in the Dominican Republic, prior to their arrival. We are also able to hire Dominican physicians and dentists to work with us if a team is unable to be sufficiently staffed. Many of these same teams include a construction component, as well.
International Ministries offers Short-Term Mission Team preparation materials available for purchase through their website. These preparation materials would be of great use to not only new teams, but also returning teams that are seeking to expand their group dynamic. They also offer travel insurance for any groups traveling with their ministry. It is highly recommended that groups travel with some insurance.
If you are considering taking time to be short-term volunteer for an extended period of time (not with the usual week-long work team) we do ask that you fill out our application form so that we can determine the best fit for you within our mission. And remember, if God is speaking to your heart about doing some sort of missions work, the opportunity may never present itself again. Listen to the urgings of your heart to help. Mother Theresa once said (paraphrased), "It's not the great things in life that count but the little things done with great love." What can you do today?